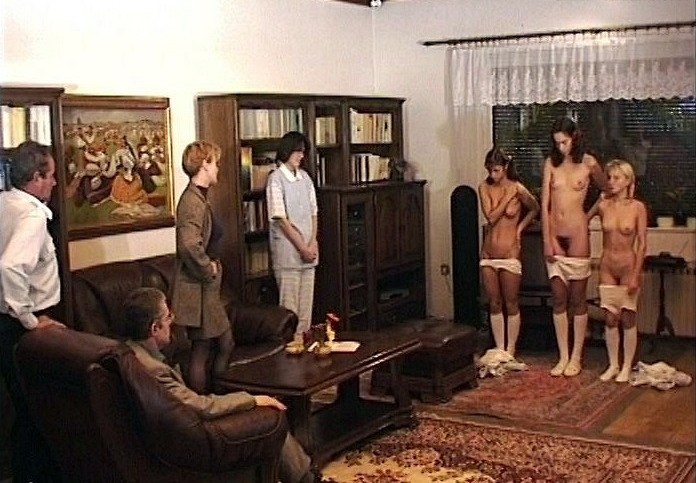 Reform School 2 (RGE-005) by Lupus
Released Date: 2019
The mother from film "The Neighbour", where it was not enough for her daughter to be beaten by the neighbor, brings her petite blonde girl to the strict reformatory. We see how truly strict the institution is right at the beginning. The principal strips the thin inmate before our eyes and beats her with a cane as she kneels spread on a bed so much, that the girl only yells, begs, hysterically hiccups, and counts the endless blows. In the end, her butt and mainly her thighs are full of bluish-purple weales.
Our blonde heroine is terrified and rather lets herself be undressed by the called-upon educator, examined by his gloved hand, and under the pretense of disobedience, is beaten with a belt for the first time. And this is just the beginning.
All the girls are called into the common room in their institutional uniforms, stripped (for lovers of unshaven girls: the way it used to be at that time; here awaits one beautiful brunette with pigtails and an unshaven crotch), and all spanked by the hands of their caregivers. The sight of three butts being beaten at the same time is captivating. That is just an introduction to the transfer to the attic punishment room. The new blonde is first bireched as she lies naked on her back with her knees by her head. She screams and squirms during the act so much that the birch rod hits her butt and pussy, so that, in the end, she is bound to a bench and her behind is birched without the option of resistance.
Subsequently, the other girls are stripped as well. One after another, they come forward, are bound and beaten with a cane until weales appear on their butts and the room is full of screams. However, the finale is reserved for our small blonde heroine. The principal thinks that her punishment was not adequate enough, so she is again bound to a bench, and the executor exchanges his cane for a new one. Using this totally brutal tool, an inch thick rigid cane from dark rattan, the poor wretch's butt is caned as she squirms in her cuffs on the bench so much that it swells and is full of weales. The screams of the unfortunate punished girl will resonate in your ears even when the principal calls them to her office and leads one of the beaten inmates to a private lesson.
Size: 473 MB | Duration: 49 min | Video: 352×288 Audio: 44.1 KHz, 226 kbits/s
Reform School 2 (RGE-005).mp4