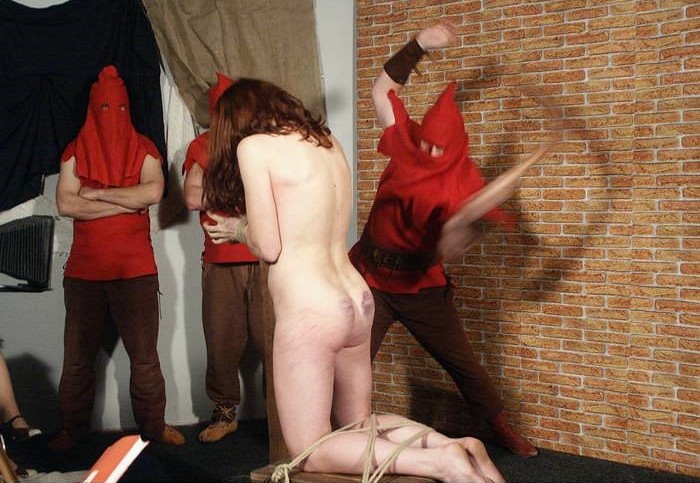 The Great Role (LP-030) by Lupus
Released Date: 2019
The thirties. A glamourous, magical period – the golden age of black-and-white film. A complicated mesh of relationships between directors, producers and movie stars, cinematographers and mere help staff. Soundmen and stagehands, all students and fans of the art of film. Lovers and heroes. Divas and ingénues.
Do you ever wonder if movie girls got beaten back then? They did, as a matter of fact. Whenever a director (or even a diva) appeared… who enjoyed punishing her followers and younger colleagues.
This is the setting of the new film by Lupus Pictures. A famous diva is finishing one of her movies – a dramatic historical piece, a dark and serious story. The company has just watched some of the material. Everyone is excited. Some of them are sincere; others are pretending. Who would dare to criticize such brilliant acting? A young follower doesn't hesitate to compliment her teacher. The guests enjoy themselves, the conversation is unflagging, champagne flows freely and we gradually get to know all the members of the film party.
And then suddenly… (Yes, the melodramatic "and then suddenly" is so typical of this period….)
A new student, a naive country girl, arrives. She presses a cardboard suitcase to her chest and begs to work with the diva: the idol of her young heart. She doesn't worry about being refused; she will tolerate any abuse. She will do anything to make her dream come true: to be the student of her idol and work with a real film company.
Then a whirl of the most challenging scenes starts. Film students know that it's hard to get your first break. However, the right way to walk, to talk and to be shameless when necessary – all these are among the essential skills of a young movie star.
The diva, toughened by fighting for parts, directors and money, doesn't waste any time. She can't allow these new starlets to enter the hall of fame. They might be too much for her before long… So she lashes out at the girls. She beats them hard and whenever she sees a chance. When a maid makes her angry, she is beaten too. Our diva loves beating and believes deeply in its efficacy. And she enjoys it quite a lot too… The director understands all this. A public punishment – on a whipping post – would suit his new movie perfectly. But who could act such a part? Or rather, who would be prepared to act such a part if she knew that it was real?
Mary wants to be an actress, but there is so much she doesn't know. How will it all turn out? Will she take a real beating in front of the camera, or will it be fake? Watch the movie and you'll find out!
And the features that are so special and popular about movies from Lupus Pictures? Tears, trembling bottoms, nakedness, shame? Don't worry – you will find everything you expect and much more! We've only described the setting. Put your imagination to work and you will find the rest in our new movie, "The Great Role".
You'll see beatings with a brush. And with rods. You'll see a girl given fifty lashes with a horsewhip and then, the next day, the same girl beaten with a scourge. You'll see her nakedness, humbling and beating in front of a large company…
And as in previous movie you can look forward special bonus – interviews with actresses before and right after spankings.
Size: 287 MB | Duration: 43 min | Video: 352×288 Audio: 44.1 KHz, 241 kbits/s
https://nelion.me/3ocbm36r1svv/The_Great_Role_(LP-030).mp4.html