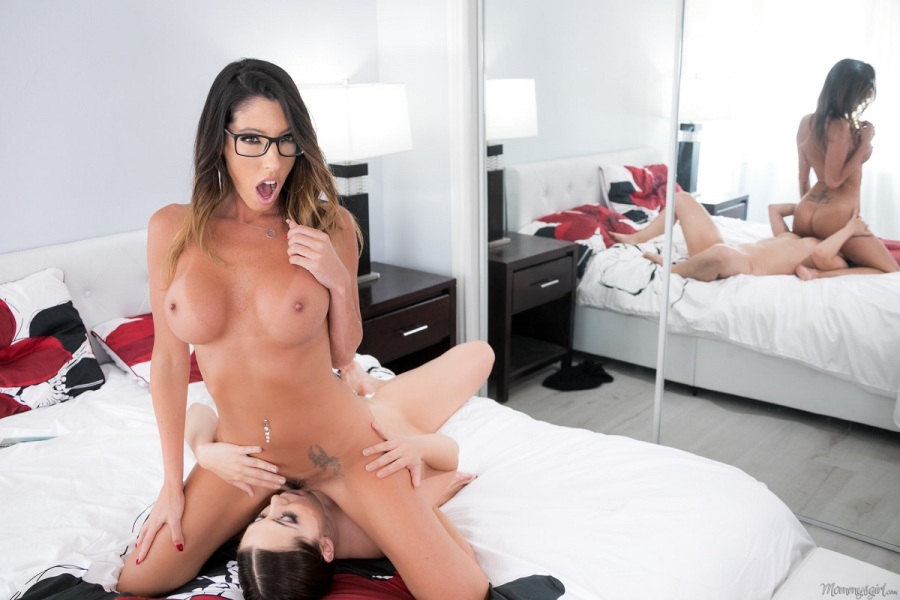 I'm in Control – Jenna Sativa, Dava Foxx by MommysGirl
Released Date: Nov 10, 2018
Ever since Dava Foxx's step-daughter, Jenna Sativa, turned 18, she's been OBSESSED with Dava's boobs! It's so obvious that Dava HAS to share the details with her friend over the phone one day.
Dava eagerly shares her stories of Jenna's fascination with her tits, saying that, for example, Dava will be by the pool, topless and soaking in the sun, and when she turns around, Jenna is just there staring at her. Then, the other day, she stepped out of the shower, and Jenna was there staring again! Curious about how far she could take this, Dava said she finally sat on the couch and waited for Jenna to return from school. As soon as Jenna walked in through the door, Dava popped her tits out of her shirt. She insisted that since Jenna keeps staring at them, why not get her butt over there and suck on her breasts? Jenna then came running over, eagerly sucking on her step-mother's breasts and stuffing her face between them. Dava remarks that now she has no problem getting Jenna to do her homework. All Dava has to do is jiggle her boobs and Jenna does whatever she wants!
Even as Dava fills her friend in on all the dirty details, Jenna is between Dava's legs, eating her out. Dava merrily continues chatting with her friend as Jenna pleases her with her tongue and even gropes her breasts a little. Dava finds it hard to bite back all of her pleased sounds, but she does her best, relishing the thrill of potentially getting caught by her friend on the other end of the line.
Finally, she hangs up and kisses Jenna, taking control once again. She returns the favor, eating out Jenna's pussy and making her squirm with delight. They take turns eating each other out, even doing a 69, but they finally need more. They then trib, grinding their bodies passionately together, with Jenna enjoying everything that's given to her. Dava really does have Jenna wrapped around her finger, and they both couldn't be happier!
Size: 1.01 GB | Duration: 32 min | Video: 1920×1080 | Audio: 44.1 KHz, 192 kbits/s
IminControl_s01_JennaSativa_DavaFoxx_1080p.mp4 – 1.0 GB