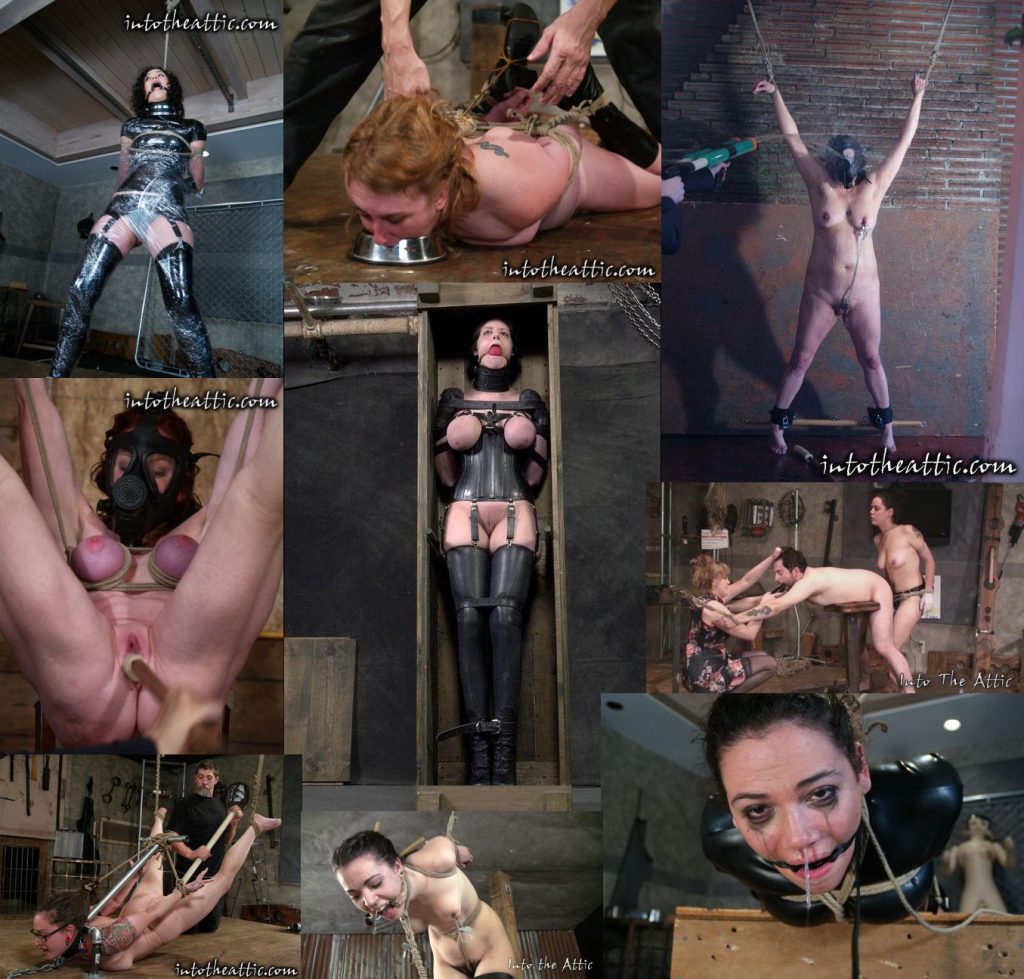 IntoTheAttic.com – SITERIP (similar to Insex) – 408 Rare Kink Videos
Similar to Insex, often weirder. Young and sometimes old, thin and sometimes fat, beautiful and sometimes ugly, mostly white women are put through a series of BDSM scenes by an old guy. There's a few videos with female tops, one series with a male and a female sub, and a few videos with multiple female subs.

Pack Size: 176 GB
Number Of Videos: 408
Total Duration: 197:53:48.566
There's not any sex. Instead it's pure BDSM scenes involving heavy restraint with rope and chain. There's also a bit of vacuum stuff and plastic cages. The guy uses classic hogties, suspensions and exposure. The subs will often get spanked, occasionally pretty nastily. Of course there's dildos (mostly not anal penetration), vibrators, clamps and gags. Usually the women are made to cum. The trademark of the site is 'Luther', a big black dildo the women are forced to suck to see how well they can deepthroat. The guy's got a wide range. Among the 'normal stuff' there's also waterbondage, fucking machines, mud-play, pet-play, body-writing, electricity, candles, diapers, enemas, piss, food eating and nasal stuff which takes place mostly indoors but sometimes outdoors. It's good to get interesting interviews at the start – the guy asks them about their first sexual experience and their BDSM interests. The exit interviews are decent too. It's a shame this operation shut down.
In the end, I always end up really enjoying these amateur, yet professional BDSM fetish sites. The content is so unique and so much time & effort is put into each shoot that it's hard not to like, especially if you tend to lean on the kinkier side like me. The main unfortunate aspect of Into The Attic is the limiting site design; browse & viewing options. While not the best amateur BDSM site, Into The Attic definitely holds a place in my mind for original fetish content.

IntoTheAttic_SCRLISTS.rar – 233.4 MB
0001_WednesdayHarrington_RT0-1.2008Feb15.wmv – 277.6 MB
0001_WednesdayHarrington_RT0-2.2008Feb15.wmv – 96.7 MB
0001_WednesdayHarrington_RT0-3.2008Feb15.wmv – 161.3 MB
0001_WednesdayHarrington_RT0-4.2008Feb15.wmv – 8.3 MB
0002_EliseGraves_RT0-1.wmv – 49.9 MB
0002_EliseGraves_RT0-2.wmv – 81.3 MB
0003_Fenri_RT0-1.2008Feb15.wmv – 70.3 MB
0003_Fenri_RT0-2.2008Feb15.wmv – 58.0 MB
0003_Fenri_RT0-3.2008Feb15.wmv – 110.7 MB
0004_Jen_RT0-1.2008Feb15.wmv – 46.1 MB
0004_Jen_RT0-2.2008Feb15.wmv – 47.8 MB
0004_Jen_RT0-3.2008Feb15.wmv – 28.0 MB
0005_EliseGraves_RT1-1.2008Feb15.wmv – 157.3 MB
0005_EliseGraves_RT1-2.2008Feb15.wmv – 228.5 MB
0005_EliseGraves_RT1-CC1.2008Feb15.wmv – 99.1 MB
0006_EliseGraves_RT1_4ITA-HD.2011Mar03.wmv – 669.6 MB
0006_Kimber_RT0-1.2008Feb15.wmv – 125.0 MB
0006_Kimber_RT0-2.2008Feb15.wmv – 141.4 MB
0006_Kimber_RT0-FC1.2008Feb15.wmv – 86.0 MB
0007_KaliKane_RT0-1.2008Feb15.wmv – 126.5 MB
0007_KaliKane_RT0-2.2008Feb15.wmv – 103.8 MB
0007_KaliKane_RT0-CC1.2008Feb15.wmv – 36.6 MB
0008_Kimber_RT1-1.2008Feb15.wmv – 182.3 MB
0008_Kimber_RT1-2.2008Feb15.wmv – 77.8 MB
0008_Kimber_RT1-CC1.2008Feb15.wmv – 61.5 MB
0009_Katie_RT0-1.2008Feb15.wmv – 119.9 MB
0009_Katie_RT0-2.2008Feb15.wmv – 144.6 MB
0009_Katie_RT0-3.2008Feb15.wmv – 104.1 MB
0009_Katie_RT0-CC1.2008Feb15.wmv – 89.8 MB
0010_SaraLeeJeffers_RT0-1.2008Feb15.wmv – 239.4 MB
0010_SaraLeeJeffers_RT0-2.2008Feb15.wmv – 225.1 MB
0011_EliseGraves_RT2-1.2008Feb15.wmv – 260.2 MB
0011_EliseGraves_RT2-2.2008Feb15.wmv – 168.7 MB
0012_RomolaTyler_RT0-1.2008Feb15.wmv – 437.5 MB
0012_RomolaTyler_RT0-CC1.2008Feb15.wmv – 69.5 MB
0012_RomolaTyler_RT0-FC1.2008Feb15.wmv – 127.1 MB
0013_Syn_RT0-1.2008Feb15.wmv – 155.2 MB
0013_Syn_RT0-2.2008Feb15.wmv – 194.6 MB
0013_Syn_RT0-CC1.2008Feb15.wmv – 77.8 MB
0014_Elisha_RT0-1.2008Feb21.wmv – 142.3 MB
0015_Ryan_RT0-1.2008Feb21.wmv – 216.8 MB
0015_Ryan_RT0-2.2008Feb21.wmv – 78.1 MB
0015_Ryan_RT0-FC1.2008Feb21.wmv – 111.2 MB
0016_EliseGraves_RT6-3ITA-HD.2011Mar10.wmv – 521.3 MB
0016_SaraLeeJeffers_RT1-1.2008Feb28.wmv – 167.4 MB
0016_SaraLeeJeffers_RT1-2.2008Feb28.wmv – 101.3 MB
0017_Reyja_RT0-1.2008Mar06.wmv – 172.3 MB
0017_Reyja_RT0-2.2008Mar06.wmv – 139.4 MB
0018_Echo_RT0-1.2008Mar18.wmv – 54.5 MB
0018_Echo_RT0-2.2008Mar18.wmv – 30.5 MB
0018_Echo_RT0-3.2008Mar18.wmv – 39.2 MB
0019_NatalieMinx_RT0-1.2008Mar18.wmv – 69.9 MB
0019_NatalieMinx_RT0-2.2008Mar18.wmv – 84.4 MB
0019_NatalieMinx_RT0-3.2008Mar18.wmv – 82.7 MB
0019_NatalieMinx_RT0-4.2008Mar18.wmv – 156.5 MB
0019_NatalieMinx_RT0-CC1.2008Mar18.wmv – 101.3 MB
0020_Isadora_RT0-1.2008Mar20.wmv – 86.0 MB
0020_Isadora_RT0-2.2008Mar20.wmv – 37.1 MB
0020_Isadora_RT0-3.2008Mar20.wmv – 79.8 MB
0020_Isadora_RT0-4.2008Mar20.wmv – 37.9 MB
0022_Goldie_RT0-1.2008Mar26.wmv – 74.3 MB
0022_Goldie_RT0-2.2008Mar26.wmv – 69.1 MB
0022_Goldie_RT0-3.2008Mar26.wmv – 67.2 MB
0022_Goldie_RT0-4.2008Mar26.wmv – 95.6 MB
0024_Willow_CC1.2008Apr03.wmv – 49.4 MB
0024_Willow_CC2.2008Apr03.wmv – 19.0 MB
0024_Willow_RT0-1.2008Apr03.wmv – 118.1 MB
0024_Willow_RT0-2.2008Apr03.wmv – 18.2 MB
0024_Willow_RT0-3.2008Apr03.wmv – 49.2 MB
0024_Willow_RT0-4.2008Apr03.wmv – 44.0 MB
0025_Penny_CC1.2008Apr10.wmv – 64.1 MB
0025_Penny_CC2.2008Apr10.wmv – 88.2 MB
0025_Penny_RT0-1.2008Apr10.wmv – 45.7 MB
0025_Penny_RT0-2.2008Apr10.wmv – 20.9 MB
0025_Penny_RT0-3.2008Apr10.wmv – 56.9 MB
0025_Penny_RT0-4.2008Apr10.wmv – 67.2 MB
0026_Goldie_RT1-1.2008Apr17.wmv – 143.3 MB
0026_Goldie_RT1-2.2008Apr17.wmv – 63.7 MB
0026_Goldie_RT1-3.2008Apr17.wmv – 63.6 MB
0026_Goldie_RT1-4.2008Apr17.wmv – 114.3 MB
0026_Goldie_RT1-5.2008Apr17.wmv – 80.2 MB
0026_Goldie_RT1-CC1.2008Apr17.wmv – 122.6 MB
0026_Goldie_RT1-CC2.2008Apr17.wmv – 106.3 MB
0026_Goldie_RT1-CC3.2008Apr17.wmv – 50.9 MB
0027_Marina_RT0-1.2008Apr24.wmv – 64.0 MB
0027_Marina_RT0-2.2008Apr24.wmv – 67.9 MB
0027_Marina_RT0-3.2008Apr24.wmv – 43.8 MB
0027_Marina_RT0-4.2008Apr24.wmv – 63.5 MB
0027_Marina_RT0-5.2008Apr24.wmv – 137.2 MB
0027_Marina_RT0-CC1.2008Apr24.wmv – 60.6 MB
0028_Kyaa_RT0-1.2008May01.wmv – 360.7 MB
0029_Marina_RT1-1.2008May08.wmv – 74.3 MB
0029_Marina_RT1-2.2008May08.wmv – 68.5 MB
0029_Marina_RT1-3.2008May08.wmv – 66.6 MB
0029_Marina_RT1-4.2008May08.wmv – 52.7 MB
0029_Marina_RT1-5.2008May08.wmv – 60.1 MB
0029_Marina_RT1-6.2008May08.wmv – 24.9 MB
0029_Marina_RT1-CC1.2008May08.wmv – 32.4 MB
0030_Angel_RT0-1.2008May15.wmv – 79.2 MB
0030_Angel_RT0-2.2008May15.wmv – 86.4 MB
0030_Angel_RT0-3.2008May15.wmv – 75.8 MB
0030_Angel_RT0-4.2008May15.wmv – 29.7 MB
0030_Angel_RT0-5.2008May15.wmv – 24.2 MB
0030_Angel_RT0-6.2008May15.wmv – 188.2 MB
0030_Angel_RT0-7.2008May15.wmv – 102.1 MB
0030_Angel_RT0-8.2008May15.wmv – 24.7 MB
0030_Angel_RT0-CC2.2008May15.wmv – 130.2 MB
0031_Syn_RT1-1.2008May22.wmv – 15.1 MB
0031_Syn_RT1-2.2008May22.wmv – 23.2 MB
0031_Syn_RT1-3.2008May22.wmv – 60.2 MB
0031_Syn_RT1-4.2008May22.wmv – 19.5 MB
0031_Syn_RT1-5.2008May22.wmv – 52.5 MB
0031_Syn_RT1-6.2008May22.wmv – 47.7 MB
0031_Syn_RT1-7.2008May22.wmv – 66.3 MB
0031_Syn_RT1-8.2008May22.wmv – 10.6 MB
0031_Syn_RT1-CC1.2008May22.wmv – 74.5 MB
0031_Syn_RT1-CC2.2008May22.wmv – 85.8 MB
0032_Kimber_RT2-1.2008May29.wmv – 71.3 MB
0032_Kimber_RT2-2.2008May29.wmv – 171.3 MB
0032_Kimber_RT2-3.2008May29.wmv – 43.9 MB
0032_Kimber_RT2-4.2008May29.wmv – 40.6 MB
0033_Goldie_RT2-1.2008Jun05.wmv – 15.6 MB
0033_Goldie_RT2-2.2008Jun05.wmv – 71.9 MB
0033_Goldie_RT2-3.2008Jun05.wmv – 97.8 MB
0033_Goldie_RT2-4.2008Jun05.wmv – 37.1 MB
0033_Goldie_RT2-5.2008Jun05.wmv – 77.7 MB
0033_Goldie_RT2-6.2008Jun05.wmv – 22.5 MB
0034_Angel_RT1-1.2008Jun12.wmv – 95.5 MB
0034_Angel_RT1-2.2008Jun12.wmv – 63.9 MB
0034_Angel_RT1-3.2008Jun12.wmv – 40.1 MB
0034_Angel_RT1-4.2008Jun12.wmv – 80.7 MB
0034_Angel_RT1-5.2008Jun12.wmv – 116.4 MB
0034_Angel_RT1-6.2008Jun12.wmv – 63.3 MB
0034_Angel_RT1-7.2008Jun12.wmv – 58.1 MB
0035_Akane_RT0-1.2008Jun19.wmv – 45.9 MB
0035_Akane_RT0-2.2008Jun19.wmv – 72.1 MB
0035_Akane_RT0-3.2008Jun19.wmv – 14.7 MB
0035_Akane_RT0-4.2008Jun19.wmv – 48.5 MB
0035_Akane_RT0-5.2008Jun19.wmv – 53.8 MB
0035_Akane_RT0-6.2008Jun19.wmv – 69.6 MB
0035_Akane_RT0-7.2008Jun19.wmv – 15.7 MB
0038_WednesdayHarrington_RT1-1.2008Jun26.wmv – 50.4 MB
0038_WednesdayHarrington_RT1-2.2008Jun26.wmv – 43.8 MB
0038_WednesdayHarrington_RT1-3.2008Jun26.wmv – 26.9 MB
0038_WednesdayHarrington_RT1-4.2008Jun26.wmv – 62.3 MB
0038_WednesdayHarrington_RT1-5.2008Jun26.wmv – 26.3 MB
0038_WednesdayHarrington_RT1-6.2008Jun26.wmv – 84.6 MB
0038_WednesdayHarrington_RT1-7.2008Jun26.wmv – 8.3 MB
0040_Elise_RT3-1.2008Jul09.wmv – 42.5 MB
0040_Elise_RT3-2.2008Jul09.wmv – 16.1 MB
0040_Elise_RT3-3.2008Jul09.wmv – 78.8 MB
0040_Elise_RT3-4.2008Jul09.wmv – 68.3 MB
0040_Elise_RT3-5.2008Jul09.wmv – 44.2 MB
0040_Elise_RT3-6.2008Jul09.wmv – 53.2 MB
0040_Elise_RT3-7.2008Jul09.wmv – 21.2 MB
0041_Emily_RT0-1.2008Jul09.wmv – 24.2 MB
0041_Emily_RT0-2.2008Jul09.wmv – 53.9 MB
0041_Emily_RT0-3.2008Jul09.wmv – 21.7 MB
0041_Emily_RT0-4.2008Jul09.wmv – 86.7 MB
0041_Emily_RT0-5.2008Jul09.wmv – 57.7 MB
0041_Emily_RT0-6.2008Jul09.wmv – 78.5 MB
0041_Emily_RT0-7.2008Jul09.wmv – 14.5 MB
0042_Madison_RT0.2011Apr21.wmv – 759.2 MB
0043_ZaydaJ_RT0-01.2008Jul16.wmv – 42.4 MB
0043_ZaydaJ_RT0-02.2008Jul16.wmv – 51.1 MB
0043_ZaydaJ_RT0-03.2008Jul16.wmv – 19.3 MB
0043_ZaydaJ_RT0-04.2008Jul16.wmv – 21.9 MB
0043_ZaydaJ_RT0-05.2008Jul16.wmv – 81.3 MB
0043_ZaydaJ_RT0-06.2008Jul16.wmv – 48.8 MB
0043_ZaydaJ_RT0-07.2008Jul16.wmv – 51.0 MB
0043_ZaydaJ_RT0-08.2008Jul16.wmv – 16.0 MB
0043_ZaydaJ_RT0-09.2008Jul16.wmv – 38.4 MB
0043_ZaydaJ_RT0-10.2008Jul16.wmv – 21.5 MB
0044_Angel_RT2-1.2008Jul23.wmv – 48.8 MB
0044_Angel_RT2-2.2008Jul23.wmv – 36.2 MB
0044_Angel_RT2-3.2008Jul23.wmv – 36.7 MB
0044_Angel_RT2-4.2008Jul23.wmv – 39.0 MB
0044_Angel_RT2-5.2008Jul23.wmv – 32.3 MB
0045_Syn_RT2-1.2008Jul31.wmv – 46.9 MB
0045_Syn_RT2-2.2008Jul31.wmv – 56.1 MB
0045_Syn_RT2-3.2008Jul31.wmv – 18.5 MB
0045_Syn_RT2-4.2008Jul31.wmv – 60.1 MB
0045_Syn_RT2-5.2008Jul31.wmv – 50.7 MB
0045_Syn_RT2-6.2008Jul31.wmv – 11.5 MB
0046_Elizabeth_RT0-1.2008Aug14.wmv – 36.9 MB
0046_Elizabeth_RT0-2.2008Aug14.wmv – 25.2 MB
0046_Elizabeth_RT0-3.2008Aug14.wmv – 53.7 MB
0046_Elizabeth_RT0-4.2008Aug14.wmv – 36.4 MB
0046_Elizabeth_RT0-5.2008Aug14.wmv – 40.0 MB
0046_Elizabeth_RT0-6.2008Aug14.wmv – 7.4 MB
0046_Elizabeth_RT0-7.2008Aug14.wmv – 17.3 MB
0047_EvaStarr_RT0-1.2008Aug07.wmv – 52.3 MB
0047_EvaStarr_RT0-2.2008Aug07.wmv – 27.5 MB
0047_EvaStarr_RT0-3.2008Aug07.wmv – 53.2 MB
0047_EvaStarr_RT0-4.2008Aug07.wmv – 77.1 MB
0047_EvaStarr_RT0-5.2008Aug07.wmv – 83.7 MB
0047_EvaStarr_RT0-6.2008Aug07.wmv – 15.3 MB
0049_ZaydaJ_RT1-1.2008Aug27.wmv – 56.8 MB
0049_ZaydaJ_RT1-2.2008Aug27.wmv – 50.0 MB
0049_ZaydaJ_RT1-3.2008Aug27.wmv – 65.6 MB
0049_ZaydaJ_RT1-4.2008Aug27.wmv – 58.7 MB
0049_ZaydaJ_RT1-5.2008Aug27.wmv – 56.2 MB
0049_ZaydaJ_RT1-6.2008Aug27.wmv – 52.8 MB
0049_ZaydaJ_RT1-7.2008Aug27.wmv – 17.7 MB
0049_ZaydaJ_RT1-8.2008Aug27.wmv – 52.6 MB
0050_Emily_RT1-1.2008Sep03.wmv – 32.6 MB
0050_Emily_RT1-2.2008Sep03.wmv – 54.7 MB
0050_Emily_RT1-3.2008Sep03.wmv – 60.5 MB
0050_Emily_RT1-4.2008Sep03.wmv – 27.9 MB
0050_Emily_RT1-5.2008Sep03.wmv – 43.4 MB
0050_Emily_RT1-6.2008Sep03.wmv – 33.9 MB
0051_Mia_RT1-1.2008Sep10.wmv – 30.6 MB
0051_Mia_RT1-2.2008Sep10.wmv – 50.4 MB
0051_Mia_RT1-3.2008Sep10.wmv – 34.0 MB
0051_Mia_RT1-4.2008Sep10.wmv – 61.7 MB
0051_Mia_RT1-5.2008Sep10.wmv – 29.3 MB
0051_Mia_RT1-6.2008Sep10.wmv – 17.4 MB
0052_ZaydaJ_RT2-1.2008Sep18.wmv – 23.4 MB
0052_ZaydaJ_RT2-2.2008Sep18.wmv – 25.2 MB
0052_ZaydaJ_RT2-3.2008Sep18.wmv – 32.9 MB
0052_ZaydaJ_RT2-4.2008Sep18.wmv – 30.0 MB
0052_ZaydaJ_RT2-5.2008Sep18.wmv – 29.1 MB
0053_Goldie_RT3-1.2008Sep18.wmv – 60.2 MB
0053_Goldie_RT3-2.2008Sep18.wmv – 72.8 MB
0053_Goldie_RT3-3.2008Sep18.wmv – 52.3 MB
0053_Goldie_RT3-4.2008Sep18.wmv – 70.9 MB
0053_Goldie_RT3-5.2008Sep18.wmv – 64.2 MB
0053_Goldie_RT3-6.2008Sep18.wmv – 9.8 MB
0054_Ryan_RT1-1.2008Sep24.wmv – 43.6 MB
0054_Ryan_RT1-2.2008Sep24.wmv – 39.6 MB
0054_Ryan_RT1-3.2008Sep24.wmv – 31.9 MB
0054_Ryan_RT1-4.2008Sep24.wmv – 54.2 MB
0054_Ryan_RT1-5.2008Sep24.wmv – 16.0 MB
0055_Elise_RT4-1.2008Oct01.wmv – 38.2 MB
0055_Elise_RT4-2.2008Oct01.wmv – 32.6 MB
0055_Elise_RT4-3.2008Oct01.wmv – 49.4 MB
0055_Elise_RT4-4.2008Oct01.wmv – 83.3 MB
0055_Elise_RT4-5.2008Oct01.wmv – 50.9 MB
0056_Syn_RT3.2008Oct08.wmv – 777.0 MB
0057_Marina_RT2.2008Oct15.wmv – 990.8 MB
0058_Angel_Marina_RT3.2008Oct22.wmv – 531.5 MB
0060_Magik_RT1-1.2008Oct29.wmv – 65.4 MB
0060_Magik_RT1-2.2008Oct29.wmv – 26.9 MB
0060_Magik_RT1-3.2008Oct29.wmv – 18.5 MB
0060_Magik_RT1-4.2008Oct29.wmv – 71.1 MB
0060_Magik_RT1-5.2008Oct29.wmv – 116.0 MB
0060_Magik_RT1-6.2008Oct29.wmv – 35.1 MB
0060_Magik_RT1-7.2008Oct29.wmv – 18.7 MB
0061_ZaydaJ_RT3.2008Nov06.wmv – 841.0 MB
0062_KaliKane_RT1-1.2008Oct12.wmv – 73.0 MB
0062_KaliKane_RT1-2.2008Oct12.wmv – 55.7 MB
0062_KaliKane_RT1-3.2008Oct12.wmv – 48.4 MB
0062_KaliKane_RT1-4.2008Oct12.wmv – 20.4 MB
0062_KaliKane_RT1-5.2008Oct12.wmv – 54.1 MB
0062_KaliKane_RT1-6.2008Oct12.wmv – 17.9 MB
0066_Lilith_RT0.2008Dec03.wmv – 1.1 GB
0067_Celeste_RT0.2008Dec11.wmv – 612.2 MB
0068_Elizabeth_RT2.2008Dec19.wmv – 607.0 MB
0069_Christmas08_RT0.wmv – 740.9 MB
0070_Scarlet_RT0.2009Jan01.wmv – 416.3 MB
0071_Iris_RT0.2009Jan08.wmv – 1.0 GB
0072_Luna_RT0.2009Jan15.wmv – 927.0 MB
0073_Celeste_RT1.2009Jan22.wmv – 659.1 MB
0074_Iris_RT1.2009Jan29.wmv – 698.9 MB
0075_Kae_RT0.2009Feb05.wmv – 696.6 MB
0076_Penelope_RT0.2009Feb12.wmv – 919.3 MB
0077_ZaydaJ_RT4.2009Feb19.wmv – 627.9 MB
0078_Elizabeth_RT4.2009Feb26.wmv – 885.0 MB
0079_Iris_RT2.2009Mar05.wmv – 712.9 MB
0080_Elise_RT6.2009Mar12.wmv – 615.7 MB
0081_ZaydaJ_RT5.2009Mar19.wmv – 795.7 MB
0082_Marla_RT0.2009Mar25.wmv – 1.5 GB
0083_Marina_RT5.2009Apr02.wmv – 1.2 GB
0085_Daisey_RT0.2009Apr16.wmv – 1016.5 MB
0086_Elise_RT7.2009Apr23.wmv – 1.1 GB
0087_Andi_RT0.2009Apr30.wmv – 1.3 GB
0088_Luna_RT1.2009May07.wmv – 832.6 MB
0089_Bijou_RT0.2009May14.wmv – 1.2 GB
0090_ZaydaJ_RT6.2009May21.wmv – 524.6 MB
0091_Kelly_RT0.2009May28.wmv – 296.1 MB
0092_Bijou_RT1.2009May28.wmv – 694.6 MB
0093_Luna_RT2.2009Jun04.wmv – 839.9 MB
0094_Raven_RT0.2009Jun11.wmv – 371.7 MB
0095_Marina_RT6.2009Jun11.wmv – 881.4 MB
0096_Vogue_RT0.2009Jun17.wmv – 1.1 GB
0097_Goldie_RT3.2009Jun25.wmv – 1.1 GB
0098_Ianthe_RT0.2009Jul02.wmv – 1.1 GB
0099_Bijou_RT2.2009Jul07.wmv – 990.1 MB
0100_ZaydaJ_RT7.2009Jun16.wmv – 1.7 GB
0101_Morgan_RT0.2009Jul23.wmv – 1.2 GB
0102_Angel_RT5.2009Jun30.wmv – 1.9 GB
0103_Nicole_RT0.2009Aug06.wmv – 1.5 GB
0104_Vogue_RT1.2009Aug13.wmv – 1.8 GB
0105_Marina_RT7-1.2009Aug20.wmv – 235.8 MB
0105_Marina_RT7-2.2009Aug20.wmv – 277.2 MB
0105_Marina_RT7-3.2009Aug20.wmv – 619.4 MB
0105_Marina_RT7-4.2009Aug20.wmv – 311.1 MB
0105_Marina_RT7-5.2009Aug20.wmv – 72.7 MB
0106_Ianthe_RT1.2009Aug27.wmv – 1.0 GB
0107_Elizabeth_RT5.2009Sep03.wmv – 1.1 GB
0108_Luna_RT3.2009Sep10.wmv – 1.3 GB
0109_Meg_RT0.2009Sep17.wmv – 1.3 GB
0110_ZaydaJ_RT8.2009Sep24.wmv – 1.4 GB
0111_Dakota_RT0.2009Oct01.wmv – 1.3 GB
0112_SophiaStJames_RT0.2009Oct08.wmv – 1.5 GB
0113_Elizabeth_RT6.2009Oct15.wmv – 2.0 GB
0114_CoriLouBurke_RT0.2009Oct22.wmv – 1.4 GB
0115_Tracy_RT0.2009Oct29.wmv – 1.4 GB
0116_Lane_RT0.2009Nov05.wmv – 1.6 GB
0117_Magik_RT2.2009Nov11.wmv – 1.4 GB
0118_Raven_RT1.2009Nov19.wmv – 1.5 GB
0119_Vogue_RT2.2009Nov26.wmv – 1.7 GB
0120_Bijou_RT3.2009Dec03.wmv – 1.6 GB
0121_JRGetsBusted.2009Dec10.wmv – 1.4 GB
0122_Star_RT0.2009Dec17.wmv – 1.2 GB
0123_Elise_RT0.2009Dec24.wmv – 1.5 GB
0123_Elise_RT8.2009Dec31.wmv – 1.8 GB
0124_Elise_001_RT9.2010Jan07.wmv – 1.6 GB
0125_Meg_RT1.2009Jan13.wmv – 802.8 MB
0126_SophiaStJames_RT1_pt1.2010Jan21.mp4 – 428.3 MB
0126_SophiaStJames_RT1_pt2.2010Jan28.mp4 – 477.4 MB
0127_Elise_001_RT10.2010Feb04.wmv – 571.1 MB
0127_Elise_RT10_pt2.2010Feb11.wmv – 566.9 MB
0128_Tracy_RT1.2010Feb18.wmv – 805.1 MB
0129_Lane_RT1.2010Feb25.wmv – 705.2 MB
0130_Bijou_RT4.2010Feb04.wmv – 839.0 MB
0131_Raven_RT2.2010Mar11.wmv – 434.1 MB
0132_Calico_RT0.2010Mar18.wmv – 739.8 MB
0133_Elise_RT11-bonus.2010Mar31.wmv – 33.9 MB
0133_Elise_RT11.2010Mar25.wmv – 701.7 MB
0134_Stacia_RT1.2010Mar31.wmv – 580.5 MB
0135_Lolita_RT0.2010Apr08.wmv – 813.2 MB
0136_Bijou_RT5.2010Apr13.wmv – 502.9 MB
0137_Saofoir_RT0.2010Apr21.wmv – 734.7 MB
0138_Syd_RT0.2010Apr21.wmv – 571.8 MB
0139_CatherineDeSade_RT0.2010May05.wmv – 666.9 MB
0140_Lolita_RT1.2010May13.wmv – 575.4 MB
0141_Juniper_RT0.2010May19.wmv – 666.8 MB
0142_Lane_RT2.2010May27.wmv – 692.8 MB
0144_Meg_RT2-6.2010Jul01.wmv – 2.7 GB
0145_Bijou_RT6.2010Jun17.wmv – 1.7 GB
0146_Nausicca_RT0.2010Jun24.wmv – 233.7 MB
0147_Naomi_RT0-6.wmv – 155.2 MB
0147_Naomi_RT0.2010Jun24.wmv – 1.0 GB
0148_Sadie_RT0.2010Jul08.wmv – 683.9 MB
0149_Juniper_RT1-movie.2010.Jul15.wmv – 878.7 MB
0150_TreJaxx_2010Jul29.wmv – 910.1 MB
0151_Naomi_RT1.2010Jul29.wmv – 1.1 GB
0152_Abyss_RT0.2010Aug05.wmv – 1.2 GB
0153_Juniper_RT2.2010Aug12.wmv – 758.0 MB
0154_Lolita_RT2.2010Aug19.wmv – 966.0 MB
0155_Brinn_RT0-movie.2010Aug26.wmv – 1.3 GB
0156_EliseGraves_RT12-pt1.wmv – 986.7 MB
0156_EliseGraves_RT12-pt2.wmv – 1.6 GB
0157_Bijou_RT7.2010Sep09.wmv – 1.7 GB
0158_Michelle_RT0.2010Sep16.wmv – 443.2 MB
0159_Lolita_RT3.2010Sep16.wmv – 741.8 MB
0160_Juniper_RT3.2010Sep23.wmv – 891.2 MB
0161_Abby_RT0.2010Sep30.wmv – 785.4 MB
0162_Ransom_RT0.2010Oct14.wmv – 1.1 GB
0163_Naomi_RT2.2010Oct21.wmv – 1.4 GB
0164_BrinnStafford_RT1.2010Oct28.wmv – 821.6 MB
0165_MarikoNara_RT0.2010Nov04.wmv – 777.0 MB
0166_Ginger_RT0.2010Nov11.wmv – 685.7 MB
0167_Marley_RT0.2010Nov18.wmv – 734.4 MB
0168_Anna_RT0.2010Nov21.wmv – 749.4 MB
0169_Lolita_RT4.2010Dec02.wmv – 737.2 MB
0170_Goldie_RT5.2010Dec09.wmv – 879.1 MB
0171_Bijou_RT8.2010Dec16.wmv – 665.8 MB
0172_Ginger_RT1.2010Dec23.wmv – 446.9 MB
0173_Marley_RT1.2010Dec30.wmv – 506.2 MB
0174_BrinnStafford_RT2.2011Jan05.wmv – 1.1 GB
0175_Juniper_RT4.2011Jan13.wmv – 530.6 MB
0176_Tre_RT1.2011Jan20.wmv – 907.6 MB
0177_EliseGraves_RT13-pt1.2011Jan27.wmv – 701.5 MB
0177_EliseGraves_RT13-pt2.2011Feb03.mp4 – 714.0 MB
0178_BrinnStafford_RT3.2011Feb10.wmv – 520.4 MB
0179_ZaydaJ_RT9-1.2011Feb10.wmv – 138.8 MB
0180_Lilith_RT1.2011Feb17.wmv – 382.5 MB
0181_EliseGraves_RT14-1-HD.2011Feb17.wmv – 214.3 MB
0181_Marley_RT2-HD.2011Feb24.mp4 – 1.7 GB
0183_AbbyReid_RT1-HD.2011Mar03.mp4 – 1.4 GB
0184_Lucia_ZaydaJ_RT0-1ITA-HD.2011Mar10.wmv – 238.8 MB
0185_Marley_RT3-1-HD.2011Mar10.wmv – 941.2 MB
0186_Jessica_RT0.2011Mar16.mp4 – 1.2 GB
0187_Bridget_RT0.2011Mar24.mp4 – 2.3 GB
0188_Natalia_RT0.2011Mar31.mp4 – 1.3 GB
0190_LaylaGrace_RT0.2011Apr14.mp4 – 1.7 GB
0191_Natalia_RT1-1.2011Apr21.wmv – 165.0 MB
0193_Marley_RT3.2011Apr28.wmv – 1.1 GB
0194_SammiSinclair_RT0.2011May05.wmv – 1.7 GB
0195_Elli_RT0.2011May12.wmv – 1.8 GB
0196_Renee_RT0.2011May19.wmv – 1.8 GB
0197_Chelsea_RT0.2011May26.wmv – 1.8 GB
0198_Morgan_RT1.2011Jun02.wmv – 1.5 GB
0199_SammiSinclair_RT1.2011Jun09.wmv – 1.7 GB
0200_Marley_RT4.2011Jun16.wmv – 1.3 GB
0201_Chelsea_RT1.2011Jun30.wmv – 1.9 GB
0202_ZaydaJPaintsWithDischarge_RT11-5.2011Jun30.mp4 – 502.2 MB
0202_ZaydaJ_RT11.2011Jun23.wmv – 1.2 GB
0203_Marley_RT5.2011Jul07.mp4 – 1.7 GB
0204_Bridget_RT1.2011Jul15.wmv – 1.1 GB
0205_Goldie_RT6.2011Jul21.wmv – 1.7 GB
0217_Naomi_RT3-movie.wmv – 1.7 GB
0229_Jocelynn_RT0-movie.wmv – 1.7 GB
0238_Ash_RT2-movie.wmv – 915.8 MB
Unknown_AlishaAdams.12Nov2012.mp4 – 1.9 GB
Unknown_Danni.11Apr2012.mp4 – 1.9 GB




Incoming Search Queries
IntoTheAttic.com – SITERIP (similar to Insex) Download, IntoTheAttic New Porn Videos, IntoTheAttic.com – SITERIP (similar to Insex) Fast Direct Download, IntoTheAttic.com – SITERIP (similar to Insex) Download Virtual Reality, IntoTheAttic SITERIP premium member pass login access, IntoTheAttic SITERIP premium download, IntoTheAttic SITERIP Free Download, Free Full IntoTheAttic.com – SITERIP (similar to Insex) download, Downloads IntoTheAttic SITERIP – Porn for free, IntoTheAttic SITERIP pornos, NEW FULL SITERIPs 2020 Videos, Nelion, Uploaded, Rapidgator, Filejoker, Keep2share, Turbobit, Nitroflare, share-online, uploaded.to, ul.to, IntoTheAttic SITERIP – Watch Online, IntoTheAttic SITERIP – Kostenlose Pornos, IntoTheAttic SITERIP – Torrent download, IntoTheAttic SITERIP – Tube Porn, IntoTheAttic mobile porn, IntoTheAttic ipad porn, IntoTheAttic iphone porn, IntoTheAttic 4k porn, PornHub, Xvideos, YouPorn, RedTube, YouJizz, Porntube, Tube Stream Videos watch online, IntoTheAttic Free Porn Download, IntoTheAttic порно скачать бесплатно, IntoTheAttic Kostenlose Pornos, Download for Free, Real Amateur, Bondage, Humiliation, Spanking, Slave, Hogtie, Submission, Crying, Electricity, Caning, Pet Play, Enema, BDSM, IntoTheAttic SITERIP, IntoTheAttic.com SITERIP, Insex SITERIP, Kink videos, Humiliation, Art Porn, Choking, Gagging, Deepthroat, Puke, Verbal Abuse, Pissing, Puke, Vomit, Anal Play, 1080p, 720р, 4k, SITERIP, SITERIP 2019, SITERIP 2018, SITERIP 2017, SITERIP 2016, SITERIPS, PORNSITERIPS, PORNSITERIP