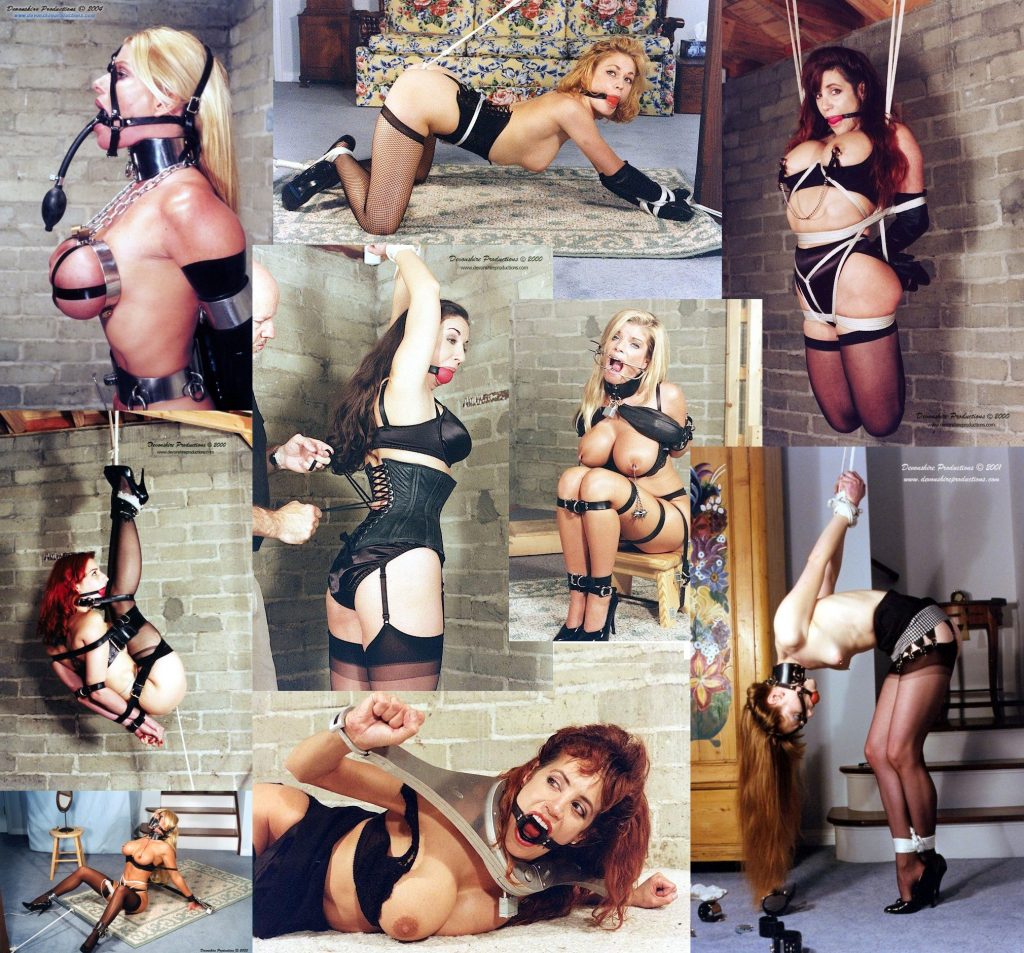 Devonshire Production MegaPack – 118 Rare series [BDSM, Latex (Rubber), Leather]
Pack Size: 68.9 GB
Number Of Videos: 118
Starring: Simone Devon, Kristal Summers, Jewell Marceau, Eve Ellis, Whitney Prescott, Summer Cummings, Tina Marie, Elle, Mary Lee, Ariele Cole, Angella Faith, Christy Stray, Francesca Le, CJ Brown, Star Chandler
Simone Devon is a well-known American bondage model, subsequently a producer and director, who became famous in the 1980s thanks to several successful thematic films and magazines of the companies of that era, primarily "Harmony Concepts" and "HOM". In the 1990s, Devon began producing her own films and photo albums for various companies, including Harmony Concepts and Calstar. In the mid-1990s, Devon and her partner Brian Davis built their own film company, based on previously successful Simone paintings, entitled Devonshire Production.
"Devonshire Production" created an extensive library with unique videos in the future of famous models such as Brandy (Kristal Summers), Tara (Eve Ellis), Whitney Presscott, Scarlet (Jewell Marceau), Summer Cummings, as well as Simone herself. Since 2005, Devon is no longer acting in bondage films, but he has publicly produced many BDSM films or photo shoots.
Many works by Devon and Brian Davis can be found on the resources of the studios "Close-Up Concepts" (series BDN, BDV) and "Harmony Concepts" (series DV, SDS, SS, SD).
Devonshire_Production_SCRLISTS.rar – 69.7 MB
BDN-1.wmv – 220.6 MB
BDN-12.avi – 400.1 MB
BDN-16.wmv – 179.9 MB
BDN-29.avi – 477.2 MB
BDN-30.avi – 477.1 MB
BDN-36.wmv – 877.9 MB
BDN-4.wmv – 228.8 MB
BDN-51.wmv – 430.0 MB
BDN-52.mp4 – 321.4 MB
BDN-65.avi – 291.4 MB
BDV-02.wmv – 263.3 MB
BDV-08.mp4 – 499.3 MB
BDV-10.wmv – 186.6 MB
BDV-16.wmv – 172.5 MB
BDV-20.mpg – 680.3 MB
BDV-26.wmv – 172.5 MB
BDV-35.avi – 481.2 MB
BDV-38.mp4 – 563.4 MB
BDV-40.mp4 – 576.7 MB
BDV-75.mp4 – 315.0 MB
BDV-80.mp4 – 564.7 MB
BDV-83.avi – 432.7 MB
Bethroted_in_Bondage.avi – 477.2 MB
DP-100.mpeg – 440.4 MB
DP-104.mp4 – 831.5 MB
DP-115.mp4 – 1.6 GB
DP-12.avi – 878.2 MB
DP-120.avi – 801.6 MB
DP-128.mp4 – 264.9 MB
DP-13.avi – 798.1 MB
DP-138.mpg – 658.5 MB
DP-142.mp4 – 788.7 MB
DP-149.avi – 443.8 MB
DP-155.mp4 – 1.3 GB
DP-156.mp4 – 1.3 GB
DP-157.mp4 – 326.7 MB
DP-163.avi – 1.0 GB
DP-164.avi – 931.2 MB
DP-167.mp4 – 964.2 MB
DP-18.mp4 – 593.0 MB
DP-180_part_1.mpg – 489.2 MB
DP-180_part_2.avi – 467.9 MB
DP-189.avi – 922.8 MB
DP-206.avi – 700.7 MB
DP-21.avi – 747.5 MB
DP-221.avi – 1.2 GB
DP-229.wmv – 330.9 MB
DP-237.mp4 – 777.6 MB
DP-238.rm – 166.8 MB
DP-243.mp4 – 926.6 MB
DP-246.avi – 311.1 MB
DP-257.mpg – 777.4 MB
DP-264.rm – 166.3 MB
DP-265.rm – 225.4 MB
DP-267.rm – 192.4 MB
DP-271.rm – 124.7 MB
DP-295.rm – 195.7 MB
DP-30.avi – 637.2 MB
DP-301.avi – 602.8 MB
DP-302.avi – 814.3 MB
DP-311.avi – 540.1 MB
DP-312.avi – 752.1 MB
DP-315_part_1.avi – 699.5 MB
DP-315_part_2.avi – 700.7 MB
DP-32.wmv – 157.4 MB
DP-33.divx – 700.3 MB
DP-334.rm – 197.4 MB
DP-35.mp4 – 583.6 MB
DP-37.rm – 127.4 MB
DP-42.mp4 – 497.5 MB
DP-44.avi – 222.3 MB
DP-45_.avi – 528.8 MB
DP-46.avi – 700.0 MB
DP-48.avi – 2.3 GB
DP-50.mp4 – 918.2 MB
DP-51.avi – 134.5 MB
DP-53.mpg – 76.2 MB
DP-57.mp4 – 334.7 MB
DP-64.mp4 – 1.4 GB
DP-65.avi – 308.1 MB
DP-70.mp4 – 1.8 GB
DP-72.mp4 – 720.2 MB
DP-75.mp4 – 579.8 MB
DP-8.wmv – 731.9 MB
DP-82.mp4 – 702.2 MB
DP-84.avi – 533.1 MB
DP-95.mp4 – 736.6 MB
DV-13.avi – 679.6 MB
DV-16.avi – 566.6 MB
DV-19.avi – 456.0 MB
DV-22.avi – 547.9 MB
DV-24.avi – 597.1 MB
DV-37.avi – 578.3 MB
DV-38.rm – 70.3 MB
DV-39.wmv – 86.8 MB
DV-7.avi – 752.0 MB
Hollywood_Tour_I_Devonshire.avi – 631.2 MB
LC-2_part_1.mp4 – 495.7 MB
LC-2_part_2.mp4 – 465.6 MB
LL-07.mp4 – 692.5 MB
LL-09.mp4 – 573.7 MB
LL-10.mp4 – 562.1 MB
LL-14.avi – 2.3 GB
LL-19.mp4 – 1.0 GB
LL-21.mp4 – 685.9 MB
LL-26.mp4 – 982.9 MB
LL-27.mp4 – 708.7 MB
LL-31.rm – 137.3 MB
LL-34.rm – 153.9 MB
Los_Angeles_Tour_-_Devonshire.avi – 295.5 MB
SDS-11.mpg – 684.7 MB
SDS-42.avi – 681.4 MB
SDS-47.avi – 452.5 MB
SDS-49.avi – 435.7 MB
SDS-54.mpg – 741.9 MB
SDS-60.avi – 563.5 MB
SS-02.wmv – 92.6 MB
SS-12.mpg – 792.3 MB




Incoming Search Queries
Devonshire Production MegaPack – 118 Rare series [BDSM, Latex (Rubber), Leather] Download, Devonshire Production New Porn Videos, Devonshire Production MegaPack – 118 Rare series [BDSM, Latex (Rubber), Leather] Fast Direct Download, Devonshire Production MegaPack – 118 Rare series [BDSM, Latex (Rubber), Leather] Download Virtual Reality, Devonshire Production SITERIP premium member pass login access, Devonshire Production SITERIP premium download, Devonshire Production SITERIP Free Download, Free Full Devonshire Production MegaPack – 118 Rare series [BDSM, Latex (Rubber), Leather] download, Downloads Devonshire Production SITERIP – Porn for free, Devonshire Production SITERIP pornos, NEW FULL SITERIPs 2020 Videos, Nelion, Uploaded, Rapidgator, Filejoker, Keep2share, Turbobit, Nitroflare, share-online, uploaded.to, ul.to, Devonshire Production SITERIP – Watch Online, Devonshire Production SITERIP – Kostenlose Pornos, Devonshire Production SITERIP – Torrent download, Devonshire Production SITERIP – Tube Porn, Devonshire Production mobile porn, Devonshire Production ipad porn, Devonshire Production iphone porn, Devonshire Production 4k porn, PornHub, Xvideos, YouPorn, RedTube, YouJizz, Porntube, Tube Stream Videos watch online, Devonshire Production Free Porn Download, Devonshire Production порно скачать бесплатно, Devonshire Production Kostenlose Pornos, Download for Free, BDSM, Latex, Rubber, Leather, Bondage, Humiliation, Spanking, Slave, Submission, Devonshire Production MegaPack, Simone Devon BDSM, Kink videos, Humiliation, Art Porn, Choking, Gagging, Deepthroat, Puke, Verbal Abuse, Pissing, Puke, Vomit, Anal Play, 1080p, 720р, 4k, SITERIP, SITERIP 2019, SITERIP 2018, SITERIP 2017, SITERIP 2016, SITERIPS, PORNSITERIPS, PORNSITERIP